Send Inquiry
Quality Assurance

Offering excellent quality of products is our business mantra. We constantly endeavor to uphold our quality parameters and for the purpose have adopted a stringent quality policy. We lay strong emphasis on the quality of raw material and components, as it ultimately affects the quality of our final products. All our product like Hinged Bellows, Metal Bellows, Mechanical Seals etc goes through extensive quality check at every stage of production. Some of the tests we conduct to evaluate the quality of our products are as follows:

Radiography
Ultrasound
Mass Spectrometer
Magnetic Particle
Hydrostatic and liquid penetrant inspection.
We can also perform other tests such as cycle testing, spring rate testing, impact testing, pneumatic testing, helium leak detection and positive material identification (PMI) as per requests of clients. All our products are designed as per latest standards of EJMA/ASME.
Infrastructural Facilities
To provide our customers with best quality of Universal Bellows with Pipe / Flanges, Metal Bellows, Hinged Bellows, Mechanical Seals, Gimbal Bellows etc., we have developed a large infrastructure base in Ahmedabad. Furthermore, to carry out uninterrupted production, we have segregated our infrastructure into various units such as manufacturing unit, quality control unit, packaging unit, etc. The right combination of experienced manpower, modern processing facility and new technology assists us in manufacturing bellows, expansion joints and piping assemblies from 40NB nominal diameter to 2000 NB, and thus meet the ever increasing demands of various markets. In addition, we also recruit a team of researchers, designers and engineers who work hard to maintain the quality and other features of our products. Utilizing their expertise, they conduct exhaustive market, product and consumer surveys to ensure that offered products are in sync with the growing technology.
Our Strength

With our world class product portfolio, we have emerged as front runners in our domain. A few reasons behind our booming success are underlined below:
Advanced manufacturing unit
Stringent quality check
Efficient professionals
Transparent dealings
Timely delivery of consignments.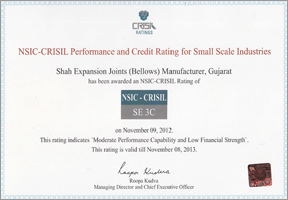 CRISIL UKAS and ISO 9001:2008 certification